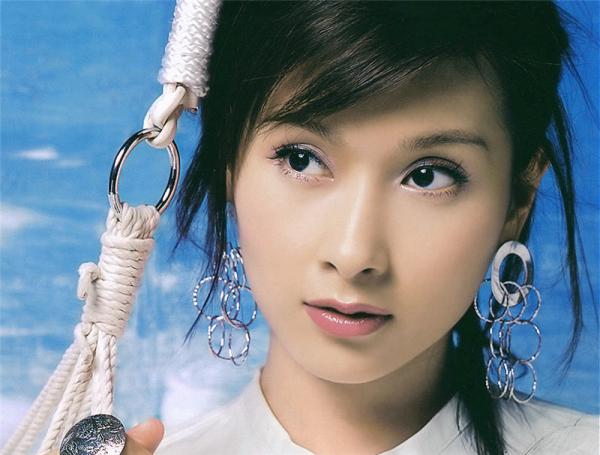 Kristy Yang
(born 7 January 1974), also known as Yang Gongru,
is a
Chinese-born Canadian
actress.
Yang was born in Shanghai, China, to a Chinese father and Jenny Liu, a half American-half Chinese. Ms.Liu was invited to play the role in the film Shanghai 1976 (2008) and she has just known her father was an American soldier. Ms.Liu's mother had just a photo of him but in the end it's also burned in war.
Kristy's father in her childhood because of his patriarchal so left her mother, so she was born in a single-parent family. In 1985, Yang immigrated to Toronto, Canada. Her half-brother was born in Canada but after due to stepfather's deception, her mother divorced again.
Kristy graduated from York University after completing her high school education in 1993 at Rosedale Heights School of the Arts in Toronto.
In the summer of 1995, during a trip to Hong Kong, Yang participated in the Miss Asia Pageant beauty contest organised by ATV and earned the title of "Miss Asia 1995".[6] She also won the Miss Photogenic and Most Popular Contestant awards. Yang joined ATV and had been acting in several television dramas produced by ATV before venturing into the film industry.
Dương Cung Như
sinh ra tại Thượng Hải nhưng trưởng thành tại
Toronto, Canada
khi gia đình di dân tới đây lúc cô còn nhỏ. Tại đây, cô được theo học ở những ngôi trường nổi tiếng. Từ nhỏ đã có năng khiếu nghệ thuật, học giỏi và xinh đẹp, Dương Cung Như đã sớm nổi tiếng trong cộng đồng người Hoa trước khi cô đến với đấu trường sắc đẹp. Cô có nét đẹp lai giữa phương Đông và phương Tây, khi mẹ Dương Cung Như mang1/2 dòng máu nước Anh.
Dương Cung Như trở về Hồng Kông tham dự cuộc thi hoa hậu Á Châu do đài ATV tổ chức vào năm 1995, khi cô ở tuổi 21. Nhiều người lấy làm lạ khi một cô gái có đầy đủ tố chất như Dương Cung Như lại chọn tham dự cuộc thi Hoa hậu Á Châu của đài ATV thay vì cuộc thi Miss Hồng Kông của TVB, vốn uy tín hơn rất nhiều. Tuy nhiên, người đẹp chia sẻ, do cô sinh ra tại Thượng Hải, không đáp ứng được yêu cầu phải sinh ra tại Hồng Kông của cuộc thi do TVB tổ chức, nên đã chọn Miss Á Châu. Cuối cùng, trong đêm chung kết cuộc thi nhan sắc này, Dương Cung Như đã xuất sắc vượt lên để trở thành chủ nhân của chiếc vương miện hoa hậu, ngoài ra còn đoạt thêm 4 giải phụ, trong đó có giải Thí sinh ăn ảnh nhất.